Journal Entry:
Thu Apr 4, 2013, 1:03 PM
Hey Guys!
So many of you have been sending me messages asking me why I haven't been as active on Deviant Art.
So here is a big update:
For those who don't follow me on



Since January I've been working as a product ambassador (promotional modelling) for Nissan at all the Auto Shows around Canada (No I'm not in a bikini in front of the GT-R, I'm actually quite knowledgeable about each and every vehicle from Nissan). January I was in my hometown Montreal and in Februar I was in Toronto. But March was just insane with Quebec City, Calgary, Ottawa and Vancouver all in the same month. One show left to do and that is Edmonton from the 18th to the 21st of April. So if you are from the area come pass by and say Hi!
Publishing
In other news, I have been published twice this year so far as most of you have noticed

First was in Ellements Magazine: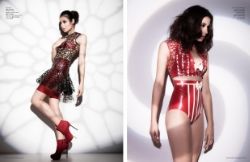 And the second one was featured in Maxim Mexico thanks to my awesome buddy

So the year is starting out great but I still am not satisfied in he slightest. I am hoping for at least 3 more publications this year! (one might be coming quite soon)
Travelling Dates:
May 2013 - Toronto
June 2013 - NYC
September - California (San Francisco - Los Angeles - Oceanside)
Retouching
I have also found a new passion that I am starting to explore.
I absolutely love retouching, and I personally find myself to be decent for a beginner considering all the very terrible self proclaimed retouchers out there.
I am definitely still an amateur, but I have started accepting a few paid assignments.
If you are interested take a look at my work:
laurelleretouch.deviantart.com…
Deviant Art Account
www.modelmayhem.com/laurellere…
Modelmayhem Account (lots more)
Slave Leia Update
$204.15/390.00
So we are getting there!
I want to sincerely thank everyone who has donated towards this project so far!!
If you wish to donate send all republic credits to :
paypal ID : slavelaurellebikinishoot@gmail.com
email transfer : sideshowsito@msn.com
please make sure you send

your name and address if you want a print !
2$ gets you a 4x6
5$ get you a 5x7
10+$ get you a 8x10
15+$ gets you a SIGNED 8x10
Retiring Nudes
Due to all the negativity towards my censoring + the sharing of my images without permission,
I am no longer posting any 18+ shots of me on DA.
Sorry for those who still appreciated my censored work but I am just tired of all of it.
I am pretty much officially retiring my nude work.
I might still post some implied work but no more censored nor 18+ online.
I realize I might be losing quite a few followers from this but if the only reason why you are watching me is to see my tits,
I highly recommend you quit following me.
My Name
Many of you know my real name isn't MissLaurelle/Laurelle.
I would highly appreciate it if you however did not address me by my real name.
Nor refer any images or fan art to my real name.
Thank you
------------------
I believe those are all the matters I wished to address

Once again guys, thanks for all the support!
xx
Playing: The Old Republic

Watch